Things To Do In Taghazout Bay, Agadir
Taghazout is known worldwide for surf and surfers from all over the world since the 70's. The weather is great almost all year round, except in summer when they days can be scorching hot. But we have the beach and the Atlantic Ocean waves to play with during summer too! Our surf camp Taghazout in Tamraght Village offers surf accommodation, surf classes and surf guiding too. But there might be days when the surf is flat, and you're wondering what you can do to make the best of your time here. From Horse riding, Camel Riding, Scooter Rental, Mountain Bike, and ATB to Boat Cruise, Bowling, Pub-hopping, there is a lot to do in Agadir region. So we have put together a list of things to do in Taghazout Bay and Agadir.
Live as a Digital Nomad in Taghazout Bay
With high speed fibre network in Taghazout Bay, you can easily work from your laptop and enjoy extended work and travel remotely from our Morocco surf camp. You can also buy a prepaid Moroccan SIM card for local calls and 4G WiFi to work literally from the beach! Staying close to the ocean offers a great variety of activities along with a superb lifestyle and wonderful sunny weather all year round.
Yoga and Meditation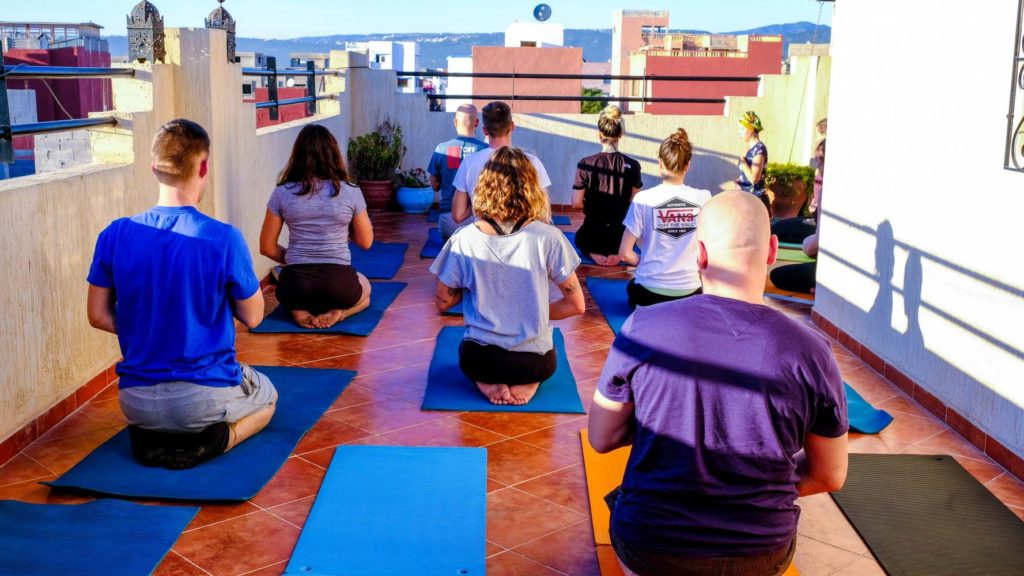 In recent years, combined surf and yoga trips are becoming a great way of enjoying active holidays. At our Tamraght Surf Camp, we have a qualified and experienced Yoga teacher with whom you can enjoy group classes on our terrace or book private classes too. If not the rooftop, you may even enjoy Yoga at the beach! Generally, we offer sunrise or sunset Yoga at our terrace, so you may join depending on the package you have booked.
Visit Paradise Valley and Argan Oil Village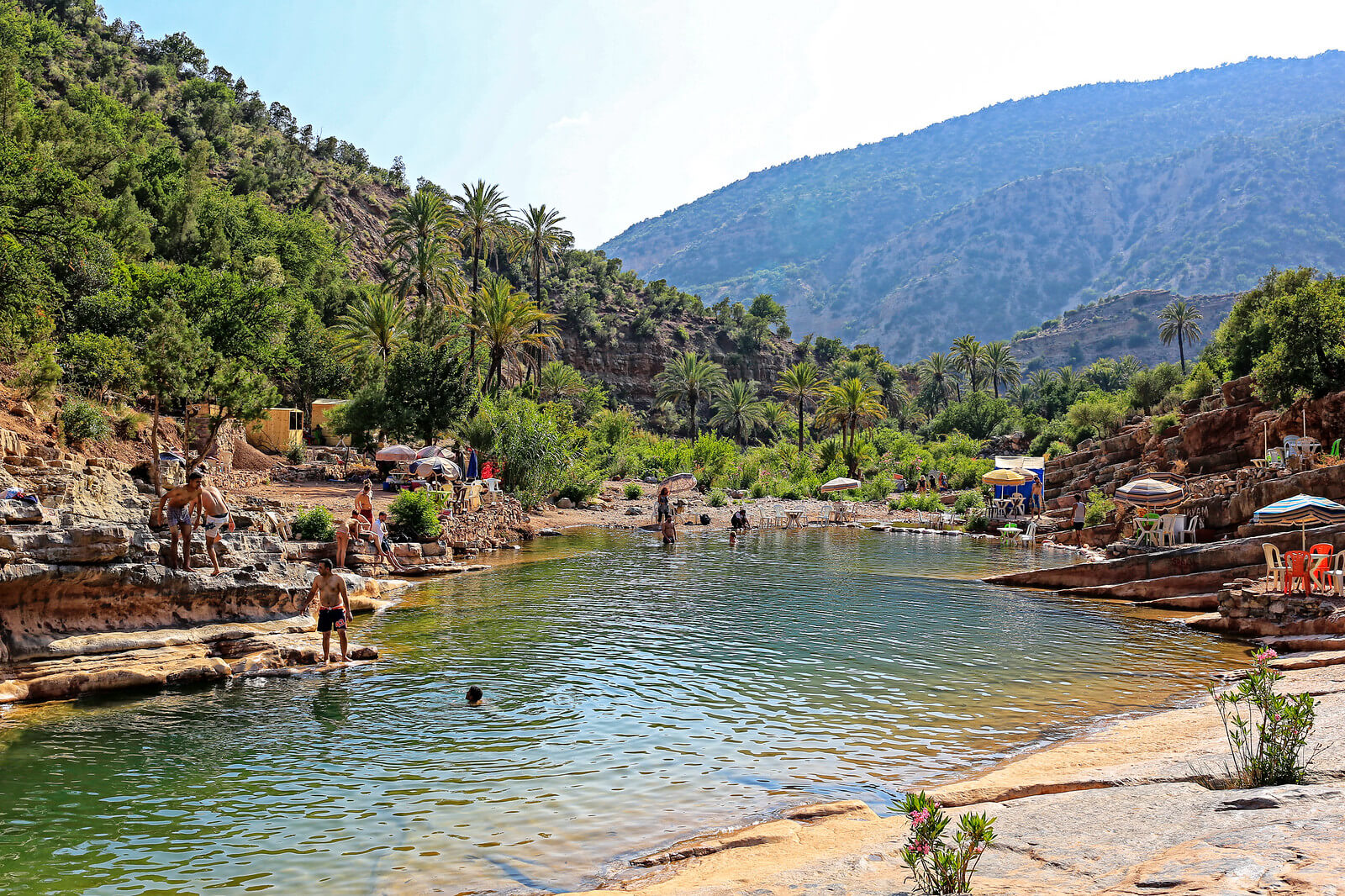 Paradise Valley is located between Agadir and Marrakech which is 1250 meters above the level of the sea. People who love nature this is a recommended place for them as it is located in the center of mountains with rivers, a lovable place with 3 spacious bathrooms having waterfalls of turquoise in color, it seems the sky is on the ground. After climbing the amazing mountains place seems to be covered with palm trees, juniper trees, and almond trees. This place is also called Paradise Valley.
Agadir Souk – One of World's Largest Souks
Agadir has many attractions for a tourist like Seafront promenade which is a long walk where you can eat, drink and have fun. It's well maintained, clean and spacious. In Agadir, 30 minutes from Taghazout, Souk el Had is the largest indoor market in North Africa. Here you will find everything, from sweets and turtles to TVs and cool stuff. Drink freshly squeezed orange juice for 10 MAD (Morrocan Dirhams) or 1 Euro, bargain Argan oil and carpets at favourable prices, or buy lovely Souvenirs to bring back as gifts for your family and friends.
Agadir Oufella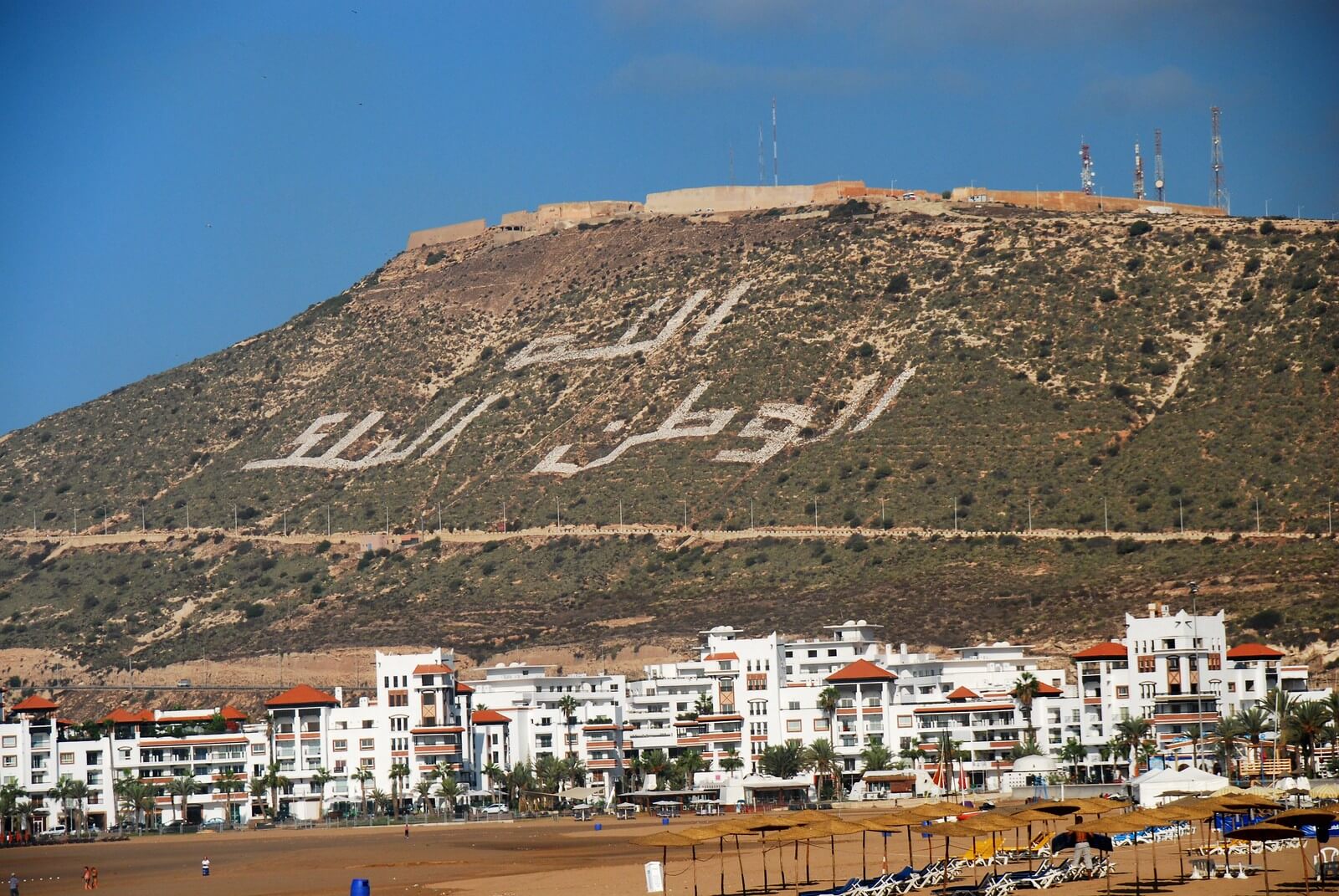 In 1960, Agadir was exposed to a major earthquake and many of its old buildings were completely destroyed. The oldest building is the Kasbah of Agadir Oufella and even though large parts of the Kasbah were destroyed, it is a nice pitstop on the road from our Tamraght Surf Camp to Agadir. It offers a panoramic view of the city and the beach.
Explore Taghazout & Tamraght Village
There are no names on the streets of Taghazout and Tamraght so it's easy to lose track but just as easy to find back, because nothing is more than 5 minutes walk in these villages. Even though the alleys are a bit worn out, the Blue little houses are incredibly charming and make your walk very interesting.
Visit Taroudant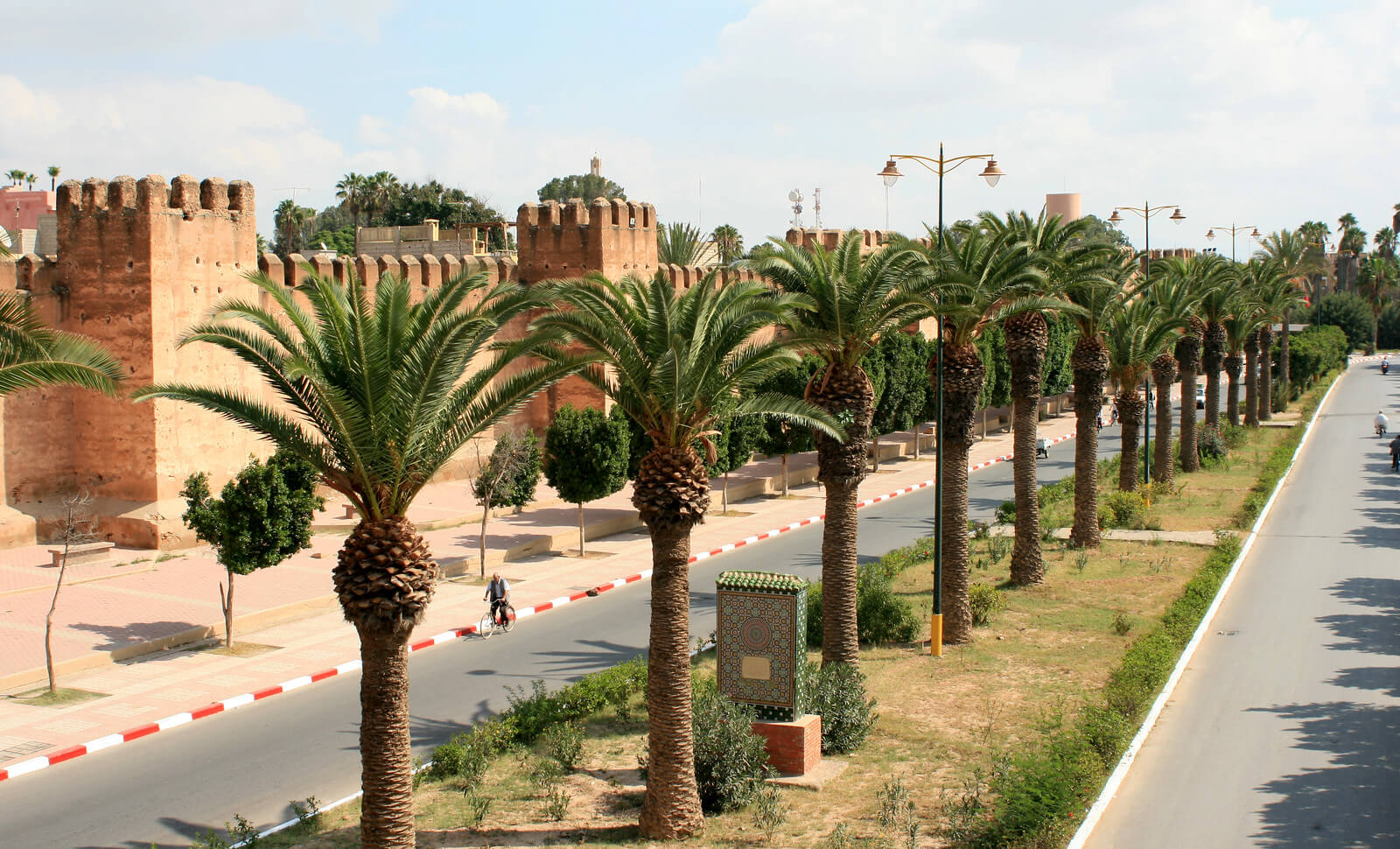 A pleasant way to really feel the true colour of Taroudant is to take a ride on a horse and in the carriage also called a Caleche. Taroudant is a fertile valley with the wrecks of Kasbah, which later has been transformed into a high top-notch restaurant. Its a nice tourist attraction with splendid view of Souss Valley and Upper Atlas. A pretty village Amagour awaits you which has Argan trees covering it.
Eat Fresh Fish
Yummy! If you like seafood, you've come to the right place. One place where locals are staying is Surf It which you will find when you head north along the beach. Here you sit along the beach-front and eat the best seafood Taghazout Bay has to offer. All the seafood around here is fresh and tastes delightful, especially the Sardines (Espetos)!
Visit Essaouira Day Trip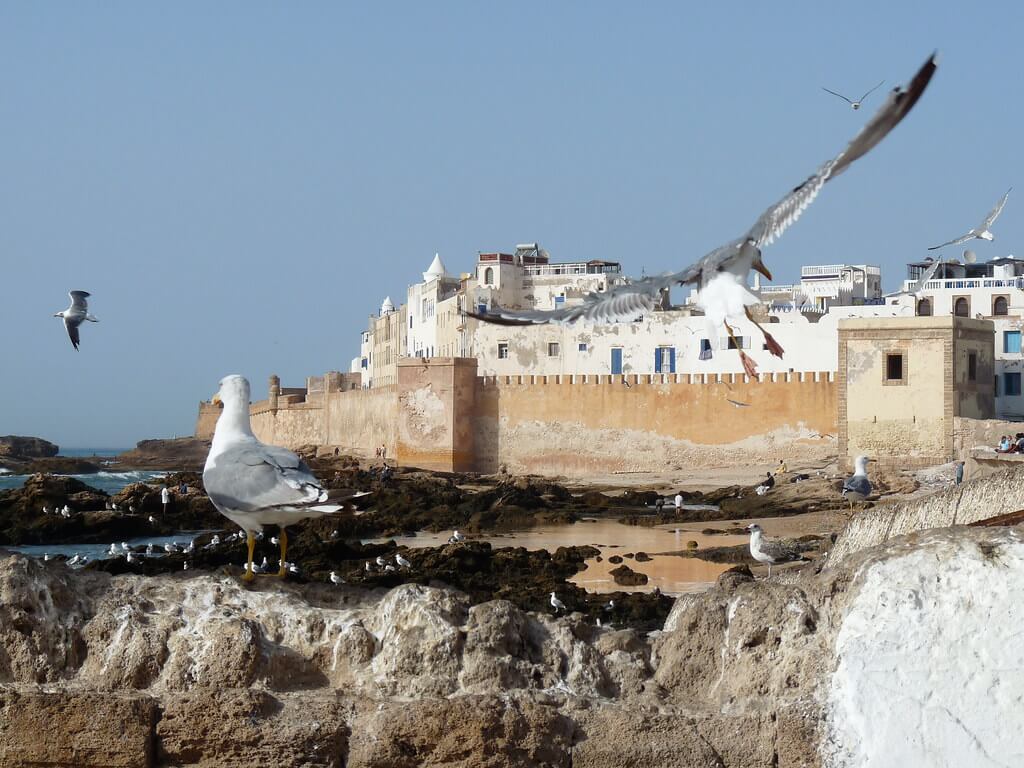 Just 3 hours north along the West Coast from Agadir, Essaouira is a small coastal city well know for its amazing seafood, local Gnaoua music, and a beautiful Medina that simply leaves you awestruck. Essaouira old town and is a really cool place for tourists to visit. The locals are more friendly than in Marrakech as they don't try to hustle the tourists. It has been made a cosmopolitan oasis with the high attraction of tourism, Moroccan ex-pats returning and European immigration. A place where you can find kite surfing, good beaches, camel and horse riding, interesting souk with amazing restaurants and easy to find accommodation. We organise this trip on days when the surf is flat, so you get to enjoy your time in Morocco.
Visit Marrakech Day Trip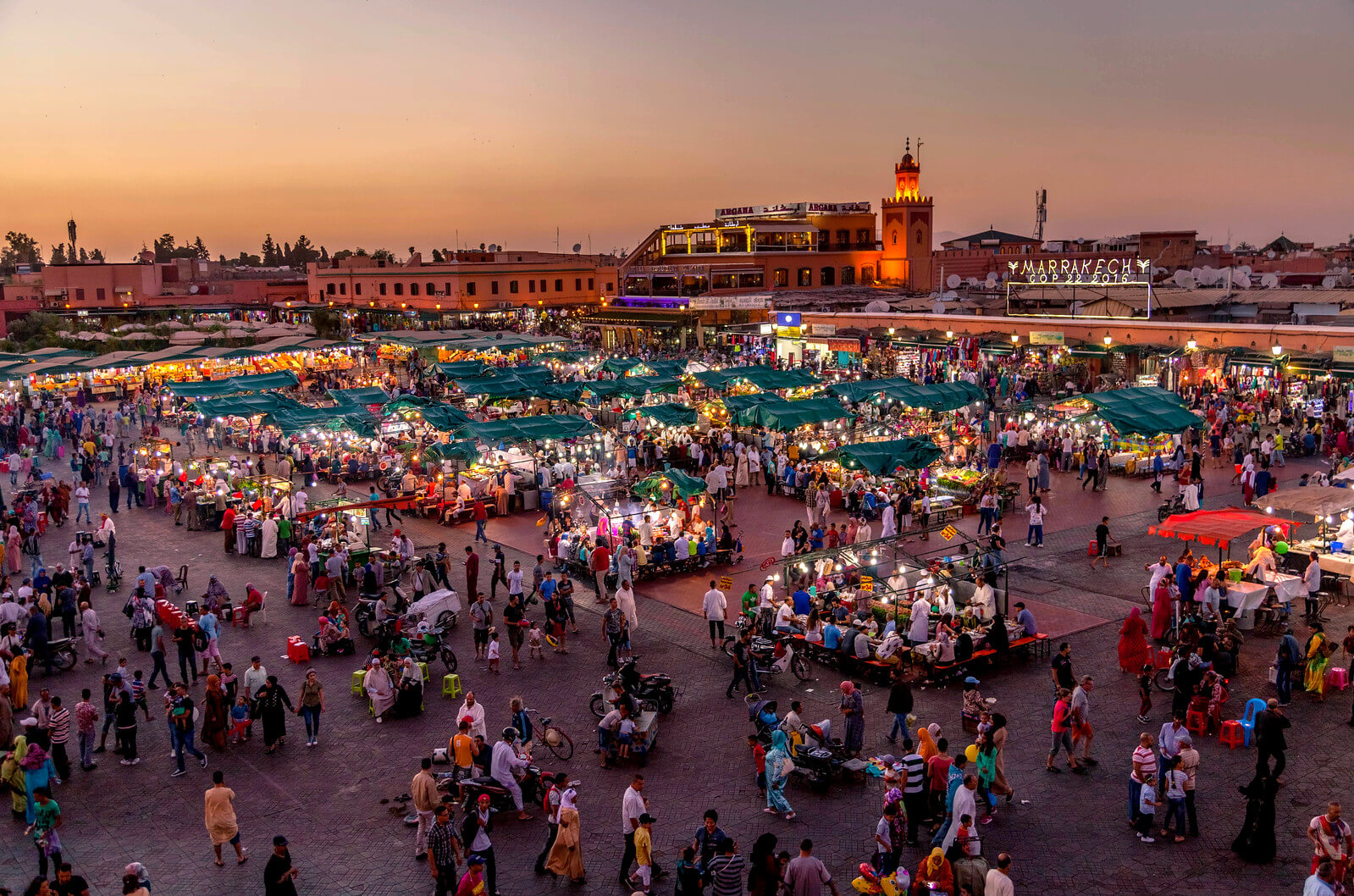 Just 3 hours north (in-land) from Agadir by road, Marrakech city makes for an amazing full day trip. We organise it when the surf is flat so you don't lose your day counting seagulls. Marrakech is a place where tourists may find smooth shop touts, snake charmers, local musicians, bites and cheap Souvenirs. The Medina is a great place to explore and shop or try your hand at bargaining. With a number of historical sites, monuments, museums, gardens and local attractions, there is plenty for history lovers and explorers. You may enjoy the local bites and sites, and feel the vibrant energy of the Medina and the local people while sipping on strong Coffee at one of the local cafes.